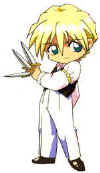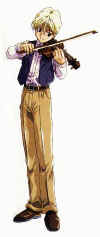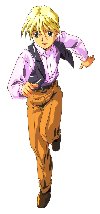 Quatre Raberba Winner:
Organization / Gundam Pilot: Age / 15: Ethnic origin / Arabian: Place of origin / L4 colony cluster: Height / 156 cm: Weight / 41 kg: Eye color / Blue: Hair color / Platinum gold: Mech / Gundam Sandrock:

Quatre Raberba Winner is the pilot of Gundam Sandrock. Known as the most friendy , peaceful, and empathetic Gundam Pilot of the five. Quatre lives in one of the most wealthy and illusterous families ever known. He has 29 older sisters and a strict pacifist father who diproves of Quatre going to combat. Quatre also dislike wars but be feels compelled that it his is obligation to fight in the war and protect his family. Quatre also has 40 loyal troops and his own military base. While Quatre lacks the fighting prowess and ruthlessness of the other Gundam pilots, he does have excellent family connections, almost unlimited cash, and lots of support. His compasionate personality later wins over the trust of Trowa Barton, and eventualy becomes the head of the Gundam pilots.